Everything You Need to Know About monday workdocs
Ever been in a meeting taking notes on a shared document thinking "I wish I could update my tasks here"? Or "if only I could see our live reports in here"?
As you already know, monday.com is the solution for increased team collaboration and therefore, increased productivity. And because they never stop being awesome and caring about helping you grow your business, monday.com releases new features quite often. They've just released their biggest and most impressive feature so far .
We took a deep dive into the new monday.com workdocs feature to give you all the tips and insights you'll need to get the most out of it. Be ready to get your mind blown!
Create a workdoc

Add users to your workdocs
Easily format your text

Add boards

Add widgets
Tag & collaborate

Centralise comments and updates

Create action items

Keep notes in a file column
As mentioned above, monday workdocs is the latest, dare we say greatest addition to the monday.com work operating system. It will allow you to upgrade your collaboration game to a whole new level, by giving you all the tools you need in your monday account, without even ever needing to leave the platform.
If you're used to Google Doc or using Words in Office 365 to collaborate in real time with your team and colleagues, you'll love monday workdocs.
1. Create a workdoc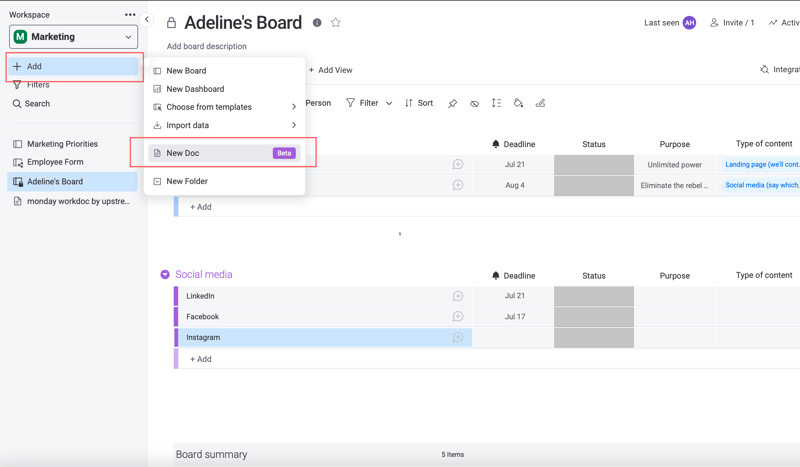 monday workdocs appear in your monday.com account as boards. You can even create folders if you wish to organise multiple workdocs per theme, category, campaign, you name it. In order to create a new workdoc, you can follow theses steps:
under your workspace at the top left-hand corner, click on +Add
in the dropdown list, select New Doc

name your doc and choose the privacy settings
then click on Create Doc when you're ready
2. Add users to your workdoc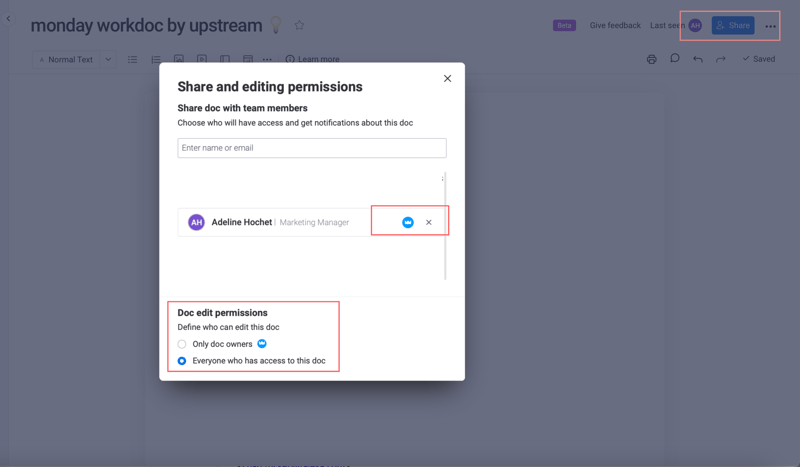 monday workdocs is a collaborative tool where you can invite users on the doc, allowing them to add their edit and contributions, or just letting them view and read the document. Here is how to add users:
on your workdoc, click on Share at the top right-hand corner

enter the name or email address of the users you'd like to add

next to their name, you can click on the crown icon to give them ownership rights of the doc

define who can edit the doc under Doc edit permissions
1. Easily format your text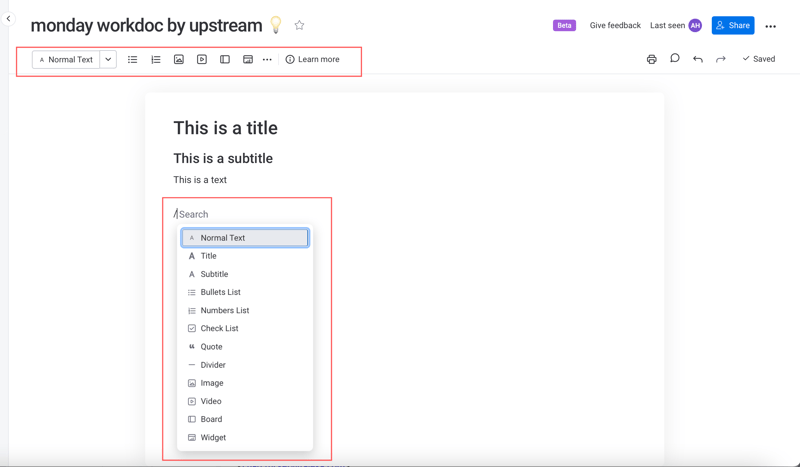 Collaborative documents are cool, but well-formatted collaborative documents are even better. That's why monday workdocs give you a few easy and efficient text formatting options for a clearer document, as well as a handy dropdown menu to insert media. Here is how to use it:
format your text (be it normal text, a title or a subtitle, lists and more) using the toolbar at the top
or prompt the dropdown menu by pressing your / key

similarly, use the toolbar menu or the shortcut if you want to add a media (images, videos and even boards and widgets)
2. Add boards to your workdocs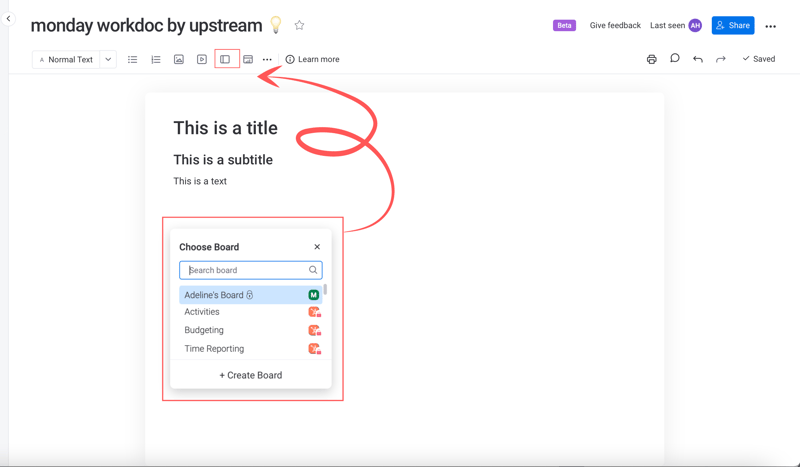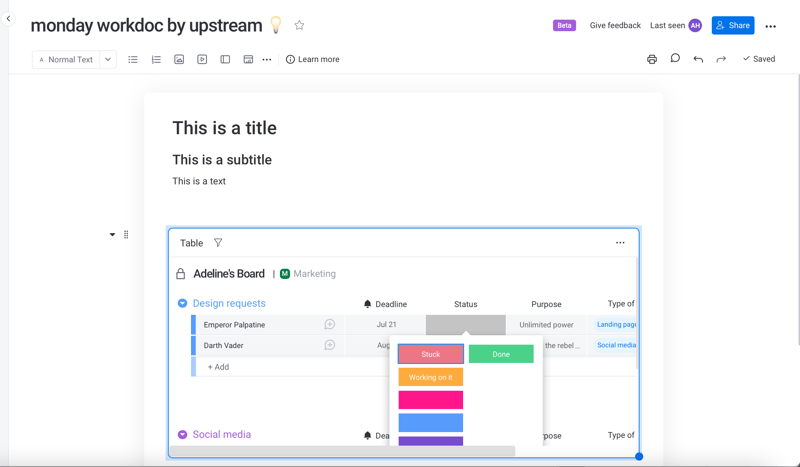 As mentioned above, not only can you add images and videos to your workdocs really easily, but you can also add any of your boards to your document too - are you as excited as we are?
And we'll do you one better: once you've added a board, you can edit the board, add or remove items, update a status etc... directly from your workdocs. Whatever change you've made will instantly update your actual board.
3. Add widgets to your workdocs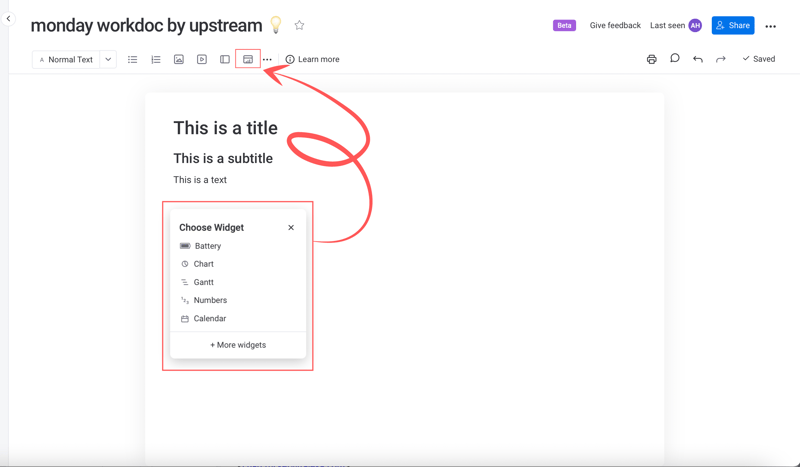 As if it couldn't get any better, monday workdocs also give you the possibility to add widgets on your shared document. By either using the / key or the toolbar (you know the drill now), you can choose among a list of pre-selected widgets and access a broader list by clicking on + More widgets: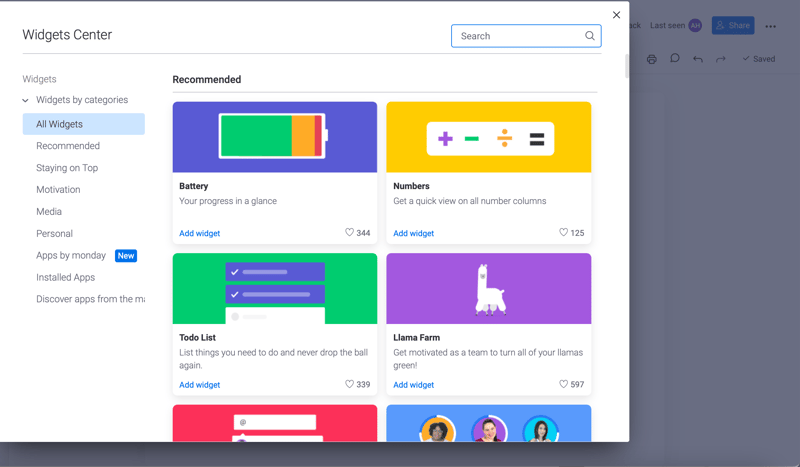 1. Tag and collaborate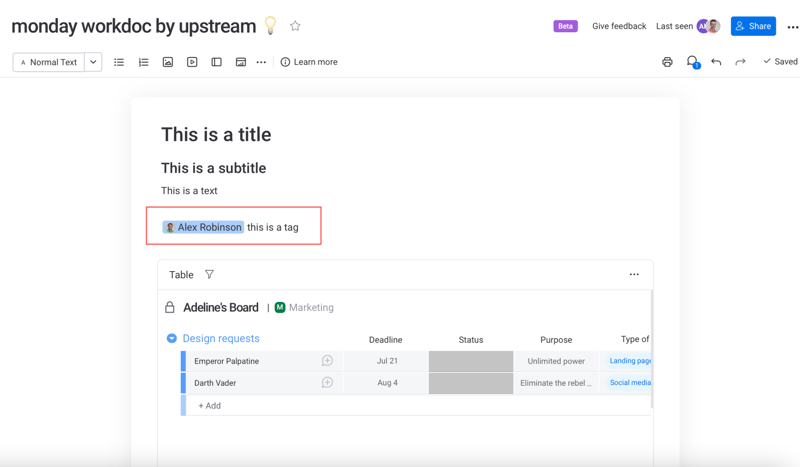 Just like you'd do in any other app, you can tag your colleagues in a document using the @ key, should you need them to pitch in, add a specific media or just get up to date.
If several users are on the workdoc and one of them is adding their contribution, the others will be able to see it in real-time, as the text is being written.
2. Centralise comments and updates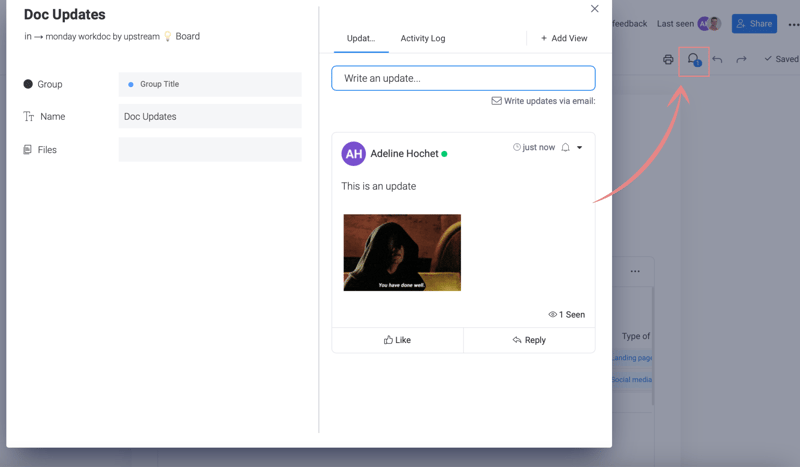 Similar to the way it works on board items, you can click the little speech bubble to start a conversation. Whether it's to give an update on the doc or make specific comments related to the monday workdocs, the Updates functionality enhances your team collaboration, which is even more practical in a day and age where work from home and remote work have become a huge part of business operations.
3. Create action items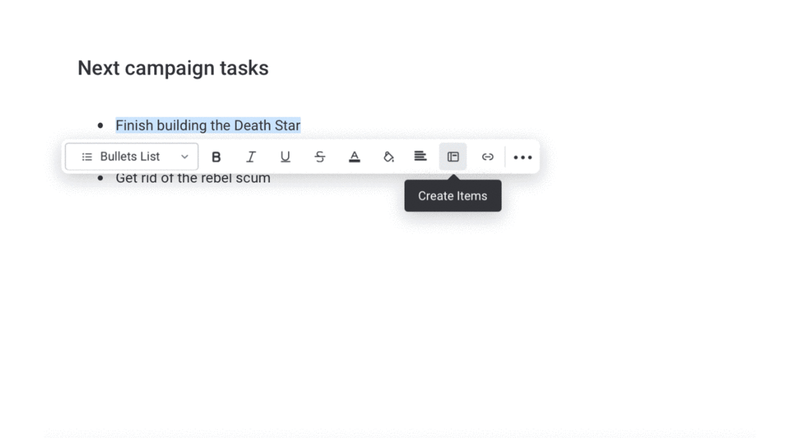 Because the fun never stops, monday workdocs also allows you to create tasks from any piece of text on the document. Probably the most amazing feature in this new monday.com addition, but you'll be the judge of that.
highlight the wording you wish to create a task with
select the board you want to create the task on
select the Group you want the task created in

then the new task will be created on that board.
4. Keep your notes in a file column

The example above is how one of our team member decided to make the most our of workdocs. Whenever they get in touch with a new lead, for a discovery call for instance, they use the workdocs tool to take notes.
To do so, follow the following steps:
create a new line item if needed
click on the + button on your row to add a new column and pick Files
by hovering over the new column, a + symbol will appear, click on it and choose New monday Doc
It's only been released recently but the monday.com dev team works hard to improve the user experience and make it as smooth as possible.
Here are the latest updates:
Drag & drop image/s from your desktop to your doc.
Copy & paste images from anywhere.
The doc now recognises pasted URL links - automatically

Widget supports now all monday.com apps. Now you can embed any app inside the document, starting from miro, whiteboards, web pages, maps. etc...
You are now equipped with the the basic tips and tricks to use monday workdocs like a pro. Whether it's for your individual use, for brainstorming or reporting in team meetings, you'll find that workdocs have their place in your monday.com account and you won't be able to work without it.